CHRISTMAS WEEKEND HOURS
Sat. Dec. 21st
9:00am to 5:00pm
last pickup 4:00pm
Sun. Dec. 22nd
9:00am to 3:00pm
last pickup 2:00pm
Mon. Dec. 23rd
9:00am to 3:00pm
last pickup 2:00pm
Tue. Dec. 24th
9:00am to 3:00pm
last pickup 2:00pm
Sat. Dec. 21st
9am to 5pm, last pickup 4pm
Sun. Dec. 22nd
9am to 3pm, last pickup 2pm
Mon. Dec. 23rd
9am to 3pm, last pickup 2pm
Tue. Dec. 24th
9am to 3pm, last pickup 2pm
Closed Christmas Day
We will be taking food orders ONLY up to Wednesday Dec. 19th at 2:00pm
NO more orders or changes cna be made AFTER THE 19th
IF YOU PLACED AN ORDER IT WILL BE READY ON DAY AND TIME GIVEN
Please visit our freezer section, we will have a variety of FRESH FROZEN DINNERS 9"x13" pans to choose from (limited quantity)
Lasagna, Meatballs, Sausage/peppers, Stuffed Shells, Eggplant and more.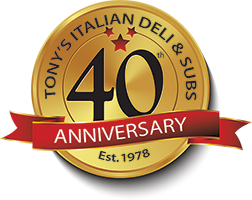 Welcome to an authentic Italian deli, grocery and café
We're Tony's Italian Deli & Subs, Chicago's premier center for the best, most authentic imported and domestic foods!
We have everything from delicious Italian subs to mouth-watering homemade pastries!
Come in and experience a taste of Italy!
Hours
Monday CLOSED
Tuesday-Friday 9:00am - 6:00pm
Saturday 9:00am - 5:00pm
Sunday 9:00am - 3:00pm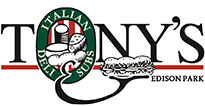 Tony's Italian Deli is launching a Gift Card Drive Program in support of
Bear Necessities Pediatric Cancer Foundation's Bear Hugs Program.
Support cancer patients (ages 0-19) as well as their immediate families facing the many challenges that accompany the diagnosis and treatment of pediatric cancer.