CATERING / TRAYS
Home Cooked Dishes
Ready Made or
Made To Order Carry Outs
Small Serves 8-10 People
10" X 13" Pan
Large Serves 15-20 People
13" X 21" Pan
Food Comes Prepared,
Not Heated
Meat Lasagna
Ricotta Cheese / Meat Sauce / Homemade Noodles
Small $30.00
Large $55.00
Meatless Lasagna
Ricotta Cheese / Homemade Noodles / Marinara Sauce
Small $30.00
Large $55.00
Vegetable Lasagna
Spinach / Ricotta / Homemade Noodles / Marinara Sauce
Small $30.00
Large $55.00
Eggplant Parmigiano
Layered With Mozzarella Cheese
And Romano Cheese
Small $35.00
Large $60.00
Ravioli Tray
Cheese
Small $30.00
Large $55.00
meat
Small $30.00
Large $55.00
Stuffed Shells
Homemade Stuffed Shells
Small Pan Only, Approx. 15 Shells
Baked Mostaccioli
Penne / Meat Sauce / Mozzarella / Romano & Ricotta Cheese
Small $25.00
Large $40.00
Pasta with Garlic, Oil,
Broccoli & Cheese
Known as AGLIO E OLIO
Small $25.00
Large $40.00
Rigatoni with Spinach & Ricotta
Marinara Sauce / Ricotta Cheese /
Saute'd Spinach / Grated Romano
Small $25.00
Large $40.00
Sausage and Peppers
Homemade Sausage / Green Peppers / Onions
Small $35.00 (approx. 25 - 3" pieces)
Large $60.00 (approx. 55 - 3" pieces)
Meatball Tray
(Up To 25 Fit In A Pan)
$1.25 Each In Red Sauce
$1.00 Each With No Sauce
Home Cooked Italian Beef
(Rare Beef With Juice On Side)
$7.99 lb.
Green peppers and onions $5.99 lb.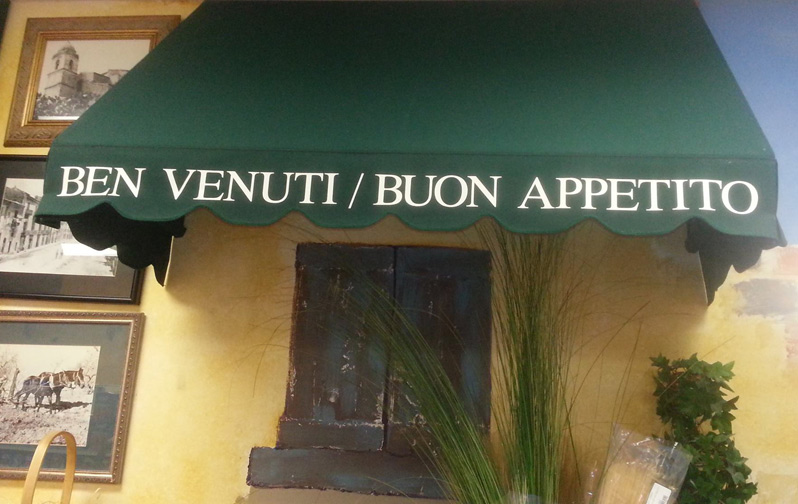 Party Trays
Italian Or American
Italian includes:
Mortadella, Capicollo, pepperoni, ham, salami,
Provolone cheese, olive salad
American includes:
Ham, bologna, turkey, pepperoni, salami, cheese, olive salad
Prosciutto or beef extra charge
$4.00 Per Person - 10 person minimum
Ham - Beef - Turkey - Cheese
Krakus Ham
Turkey
Home Cooked Beef
Swiss and American Cheese
Olive Salad
$4.50 Per Person - 10 person minimum
Relish Tray
Pepperoni
Salami
Caprese salad
Mushroom Salad
Artichoke Salad
Olive Salad
Tomato
Black Olives
Provolone Cheese
Fontinella Cheese
Fresh Mozzarella
$4.00 Per Person - 10 person minimum
Party Sub Orders
2 French Bread Subs
- cut on a tray
Choice of: Any 2 of Our Subs
$38.00

for 24 pieces on a tray
(Gourmet Subs extra charge)
1 French Bread Sub
- 36" cut in half
Choice Of: Italian, American, Turkey,
Ham & Cheese or All Cheese
A Three Foot French Bread Sub
Serves 5 - 6 People Per
French Bread
$14.99

Per 36"1 French Bread
(Beef, Club or Gourmet Subs extra charge)
Salads
Garden Salad
Salami / Tomato / Fontinella Cheese /
Olives / Shredded Mozzarella /
Grated Romano / Romaine Lettuce /
Dressing On The Side
Small $20.00
Large $30.00
Pasta Salad
Small $25.00
Large $35.00
Potato Salad
Small $15.00
Large $28.00
Macaroni Salad
Small $15.00
Large $28.00
Coleslaw
Small $15.00
Large $28.00
Precooked Notice
All foods are precooked in aluminum trays
Trays are cold and must be heated prior to serving
For pre-heated trays please add $2.00 for small 10"x13" and $2.50 for large 13"x21"
Two Day Notice Please
Same day notice is available if time is permissible
chaffing dish, wire racks and/or candles sold separately
Heating Instructions
PASTA DISHES: PREHEAT OVEN 350°, PLACE ALL PANS IN OVEN AND HEAT UNCOVERED FOR 15 MIN. THEN COVER FOR 45 MIN. OR UNTIL CENTER IS HOT.(MORE PANS IN OVEN WILL NEED MORE HEATING TIME.) PASTA AND BROCCOLI, HEAT ONLY 20 MIN.
MEAT DISHES: PREHEAT OVEN 350°, HEAT COVERED 45 MIN. TO 1 HOUR OR UNTIL HOT!!!! NOTE: MEAT AND PASTA PANS CAN BE PUT IN OVEN AT SAME TIME